The WPio12 is an electric hand pallet truck with a lithium-ion battery. It is ideal for transporting all kinds of goods over short distances. In contrast to conventional hand pallet trucks, the WPio12 lifts and moves goods using electrical power. The minimal L2 dimension (length to face of forks) of only 390 mm makes the WPio12 extremely compact and ideal for use in confined spaces, e.g. in stores and business centers of all types.

LOAD CAPACITY
max. 1200 kg

TRAVEL SPEED
max. 4.5 km/h



STACKING WIDTH
min. 1640 mm
Top-up charging can be used between full charges without affecting the service life of the battery. The battery can be recharged with any 230V socket. No costs are incurred for adapting the existing charging infrastructure (e.g. ventilation).
After deep discharge cycle, charging to 60% battery capacity takes only 40 minutes and the battery is charged to full capacity after 2.5 hours.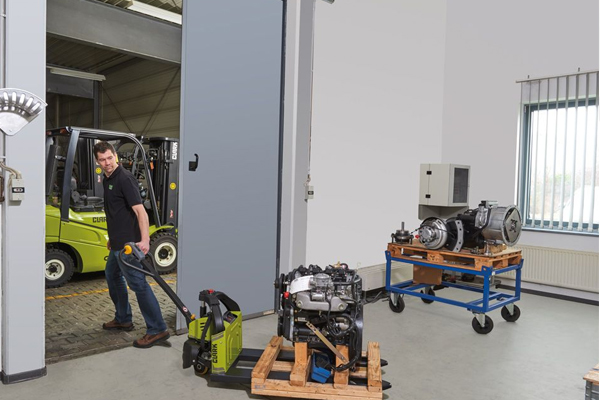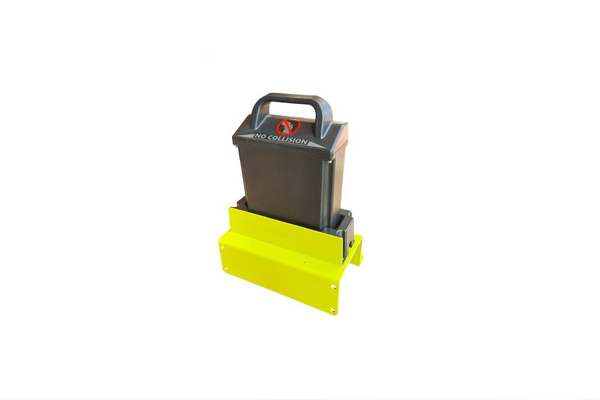 The lithium-ion battery has approximately twice the service life of a conventional lead-acid battery (approximately 1000 charge cycles). Furthermore, it does not require any maintenance with regard to battery acid.
Advantages of lithium-ion technology
Battery is charged to full capacity after 2.5 hours
Lithium-ion battery weight of only 3.7 kg
Charging at any standard 230V socket via included external charger
Long operating periods of up to 3 hours
Thanks to the maintenance-free lithium-ion battery and the included charger daily routines stay much the same when a conventional hand pallet truck is replaced with the WPio12. The WPio12 is perfect for light duties in goods distribution, production tasks or warehouse applications.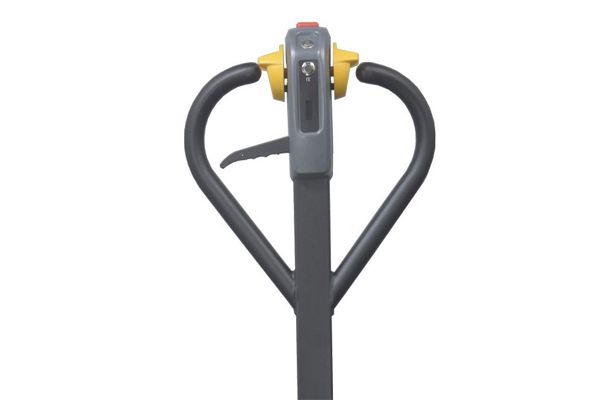 The high energy density of the installed lithium-ion battery provides great travel performance and long operating periods of up to 3 hours. At the same time, the WPio12 is very compact and has a low service weight, which means it consumes up to 30% less energy than vehicles with lead-acid batteries.
Ergonomic and safe tiller
Simple and fast implementation of control commands
Sensitive lifting and lowering
Automated soft deceleration and return into the neutral position when releasing the tiller
Automatic lift stop at maximum lift
Safe operation on slopes and ramps
Release of the automatic parking brake when driving switch is activated
Smart Display
Battery discharge indicator
Operating hour counter
Battery management system
On-board diagnostics via error codes
THE WPIO12 – AN INNOVATIVE ASSISTENT